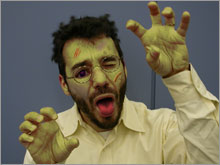 Some tech laggards have life left in them but investors need to be cautious.
NEW YORK (CNN/Money) – While it hasn't been a pleasant year for well-known tech stocks, it hasn't been a complete bloodbath either...the 78 tech stocks in the S&P 500 are off an average of 5 percent.
But then there are "The Others." (And I'm not talking about those mystery men and women on "Lost." What's up with the teddy bear, by the way?) They walk among us...the zombie tech stocks.
In the spirit of Halloween, I'm going to take a look at several high-profile techs that have had bone-chilling returns this year, each losing at least a quarter of their value: Sun Microsystems (Research), Research in Motion (Research), Lexmark (Research) and Gateway (Research), to name a few.
Should investors embrace these and other lifeless techs with the hopes that they will bounce back in 2006? Or should they do what nearly most hapless teens in horror movies fail to do when confronted by a serial killer...run away!
Well, it depends on the situation. For some, there are some positive signs which bode well for next year.

I'm not dead!
Sun Microsystems, for example, could bounce back. Sales growth is starting to pick up thanks to a stronger focus on software and increased demand for its servers. And the company has an interesting partnership with Google (Research).
Matt Kelmon, manager of the Kelmoore Strategy Eagle fund, which owns Sun, said the company has taken the right steps to boost its business. So Sun could be an interesting turnaround story next year, especially since earnings estimates for fiscal 2006 and 2007 have been on the rise during the past few months.
Research in Motion might be worth a look as well. Shares have stumbled nearly 30 percent on legal concerns. The maker of the popular BlackBerry devices and messaging software has been embroiled for the past few years in a patent dispute with privately held holding company NTP.
NTP won a court case against RIM in 2002, which raised the possibility that RIM could be prevented from selling the BlackBerry in the U.S. An injunction was stayed, however, pending appeal. But the U.S. Supreme Court recently rejected a request by RIM to halt proceedings in a district court.
Still, Kelmon, who also owns RIM, believes a settlement will eventually be reached. RIM and NTP did in fact reach one in March but the deal collapsed a few months later.
So the stock, now trading at just 23 times earnings estimates for 2006 despite a long-term projected earnings growth rate of 20 percent, could bounce back sharply once the courtroom drama is finally resolved. "At these levels it's worth buying," Kelmon said.

The bloodletting continues
Still, investors should remember why some of these tech stocks have fallen in the first place. Many are not likely to turn into treats for the foreseeable future.
Printer maker Lexmark and computer manufacturer Gateway, for example, appear to have significant problems and in highly price-sensitive industries.
Analysts have slashed their earnings estimates for next year for both companies. Lexmark faces brutal competition from Hewlett-Packard (Research) and several Asian printer makers while Gateway is getting squeezed by HP and Dell (Research).
Ted Parrish, co-manager of the Henssler Equity fund, said tech investors should probably stay away from these and other "high-fliers of old." He thinks investors would be better off with the admittedly more boring, but also more stable, industry leaders like Dell, Microsoft (Research) and Intel (Research).
There's also been a huge, and probably justified, sell-off in the electronics contract manufacturer sector this year, due to weak demand for firms that build gadgets for brand-name tech companies.
Shares of top contract manufacturers Flextronics (Research), Solectron (Research) and Celestica (Research) have all fallen more than 30 percent this year while Sanmina-SCI (Research) has plunged nearly 60 percent. Analysts have cut next year's profit forecasts for all four companies during the past three months.

Buy some techs nevermore
Finally, it's also worth noting that several stocks that I mentioned in last year's Nightmare on Tech Street column were once again lifeless corpses this year, particularly those with ties to the still moribund telecom sector.
Agere Systems (Research) has dropped 28 percent. Ciena (Research) is down more than 30 percent. Applied Micro Circuits (Research) has fallen 38 percent. PMC-Sierra (Research) has plunged 42 percent.
So that should serve as a lesson for tech investors. Just because a stock has fallen hard and fast does not necessarily make it a value.
As such, Kelmon said that despite his investments in Sun and RIM, he, like Parrish, also prefers tech blue chips. Some of his biggest holdings are Applied Materials (Research), Cisco Systems (Research), Microsoft and Oracle (Research).
"With the big names, if I'm wrong the stocks do nothing and if I'm right they go up 20 percent versus more speculative names where if you're right you might get a double but if you're wrong you get clobbered."
In other words, some tech stocks are better left dead and buried.